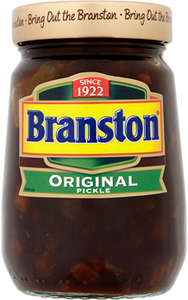 Tasty Pasty Co.
Branston Pickle Original 360g
Regular price
Sale price
€4,29
Unit price
€1,19
/
per
100g
Tax included.
---
Branston Pickle is a curious condiment made from a variety of diced vegetables, pickled in a sauce made from vinegar, tomato, apple and spices.

Made by Crosse & Blackwell in the village of Branston, Staffordshire, Branston pickle has been a staple of sandwiches, salads and side dishes ever since 1922.

Traditionally, us Brits are used to Branston pickle accompanying cheddar cheese in sandwiches or rolls, on top of crackers, or as parted of melted cheese on toast. While a summer specialty is to serve pickle as part of a 'ploughman's' – a cold lunch that consists of bread, cheese, lettuce, ham, an egg, pickled onions and some apple, which you'll often find in country pubs. At Tasty Pasty we use Branston pickle in a selection of our sandwiches.

Branston Pickle ist ein einzigartiges Gewürz, das aus verschiedenen gewürfelten Gemüsesorten besteht, die in einer Sauce aus Essig, Tomaten, Äpfeln und Gewürzen eingelegt werden.

Hergestellt von Crosse & Blackwell in dem Dorf Branston, Staffordshire, ist Branston Pickle seit 1922 ein Grundnahrungsmittel für Sandwiches, Salate und Beilagen.

Wir Briten sind traditionell daran gewöhnt, Branston Pickle zu Cheddar-Käse in Sandwiches oder Brötchen, auf Crackern oder als Teil von geschmolzenem Käse auf Toast zu essen. Eine Sommerspezialität ist es, die Pickle als Teil eines "Ploughman's" zu servieren - eines kalten Mittagessens, das aus Brot, Käse, Salat, Schinken, einem Ei, eingelegten Zwiebeln und etwas Apfel besteht und das man oft in Pubs auf dem Land findet. Bei Tasty Pasty verwenden wir Branston Pickle in einer Auswahl unserer Sandwiches.
Ingredients
Vegetables in Variable Proportions (51%) (Carrot, Rutabaga, Onion, Cauliflower), Sugar, Barley Malt Vinegar, Spirit Vinegar, Tomato Purée, Date Paste (Dates, Rice Flour), Apple Pulp, Salt, Modified Maize Starch, Colour (Sulphite Ammonia Caramel), Onion Powder, Concentrated Lemon Juice, Spices, Colouring Food (Roasted Barley Malt Extract), Herb and Spice Extracts
Zutaten

Gemüse in unterschiedlichen Anteilen (51%) (Karotte, Steckrübe, Zwiebel, Blumenkohl), Zucker, Gerstenmalzessig, Branntweinessig, Tomatenmark, Dattelpaste (Datteln, Reismehl), Apfelmark, Salz, modifizierte Maisstärke, Farbstoff (Sulfit-Ammoniak-Karamell), Zwiebelpulver, konzentrierter Zitronensaft, Gewürze, färbendes Lebensmittel (gerösteter Gerstenmalzextrakt), Kräuter- und Gewürzextrakte
---